Our Bespoke Service allows for a custom rug experience. A custom rug follows the process of curation amidst creating, creating genuinely unique rugs that fit all spaces and styles.​
The

Making
Production of our Puzzle Custom Sized Rug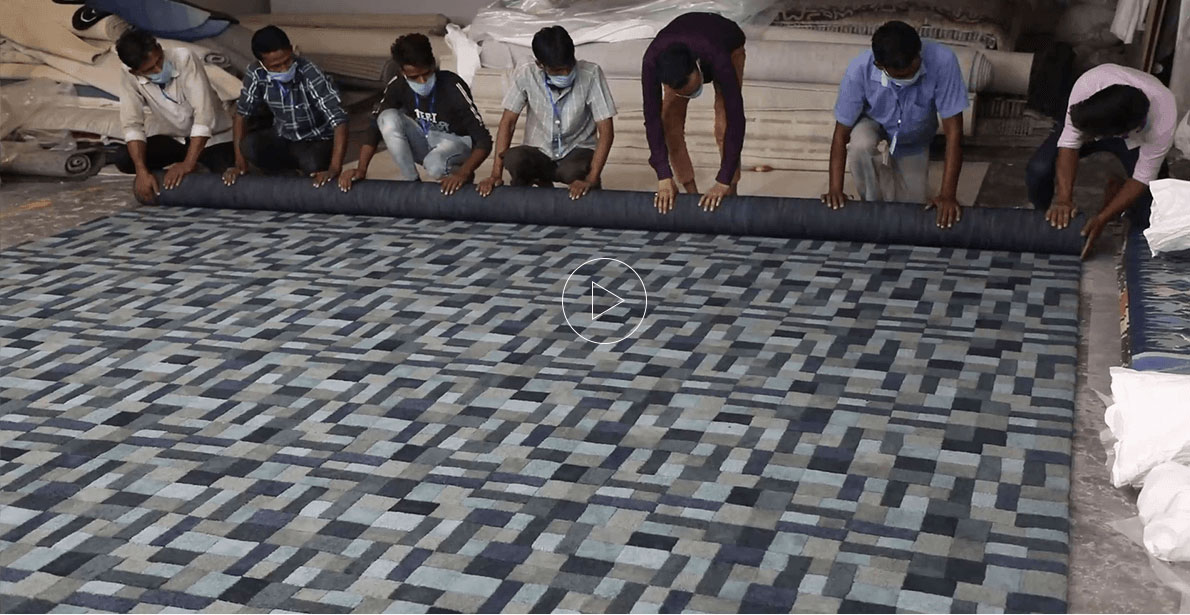 This Puzzle Grey is
14" x 46.2" in size, making it one of the largest rugs. The rug roughly weighed around 300-400 kgs once produced, and took an entire day to vacuum, quality check and pack the rug. Witness the production video of a customized rugs.
Mail us for more details on custom rugs.
Design

Inspiration
Share your designs, or connect with us for personalized rug
Pick a design from our library or share your idea.
In tandem with our design team, we will work on your perfect personalized rug design.
Once finalized, we will finalize color samples with you.
We may also create a sample, depending on the requirement.
Your personalized rug design is now ready for production.
Yarn

Inspiration
Choice of yarn varies between natural & synthetic
Yarn choice is a luxury our B2B customers can truly enjoy.
We offer different yarns including natural yarns like wool (of different varieties), hide, linen, hemp and cotton.
Our range of synthetic yarn includes polyester,
viscose, & polypropylene. We also have 100% PET Yarn and other eco-friendly yarns available.
We have a robust yarn supply to experiment with mix different yarns, and also use other yarns as per
the client requirement.
Siz

Inspiration
Custom size options available for most rugs
Our in-house production makes it easy to produce variety of rug sizes.
Our range of rugs can be between very small rugs (usually in sets), as well some truly large rugs,
and everything in between.
Our production and design teams can produce any rug size on demand,
depending upon the yarn, weave, and design.
Weav

Inspiration
Pick your weave style - knotted, tufted, loom, or woven
Our production facility has room for different styles of weave, depending upon the design,
yarn, and client preference.
Hand-knotting provides the finest rugs, and is most time-intensive technique.
Loom-knotted rugs offer faster knotted rugs, but with slightly limited design range.
Hand-tufted are made quickest, but the quality is lower than others.
Hand-woven rugs are considerably faster, but provide truly fine quality rugs.
Leather rugs follow a different production process that involves cut-paste form.
Shap

Inspiration
Shapes can now be customized with MAT!customize
Shape Rugs are used in particular spaces when standard rug shape doesn't fit.
MAT offers shape rug production services that can help you carve any shape into a rug.
Common rug shapes, other than the standard rectangular rug, are square and circle.
We can customize the shape even further, to shapes like leaves, flowers, and mandalas.